Invoice vs Bills vs Receipt: What's The Difference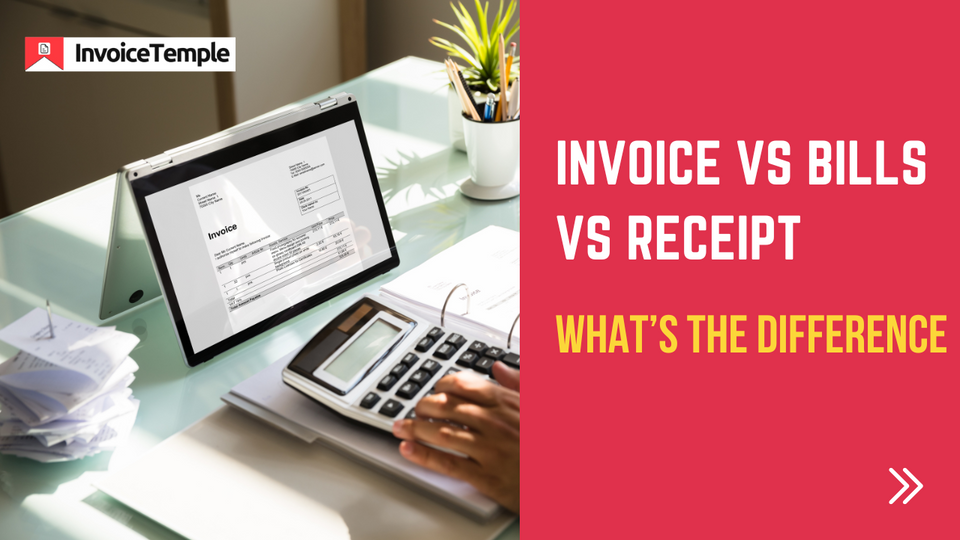 " Let us share the bill in the restaurant"
"I'll send the invoice shortly"
"Please collect your goods and receipt at the counter"
We all would have come across these terms: bill, receipt, and invoice. But do we know what exactly these terms mean and are we using them correctly in our day-to-day life? Although these terms might feel similar, they are completely different terms. This blog will walk you through the differences between each of these terms and where to use them.
What is An Invoice?
An invoice is a legal document that is sent to a buyer with a list of all the goods and/or services provided by the seller. It is a commercial document sent to the client with the expectation to receive the payment agreed in the contract/agreement by both the buyer and the seller. It helps to maintain and record sales and easy to file taxes when required.
What's Included in an Invoice?
Since we already mentioned that an invoice is  legal document, to make it legally accepted, we have to ensure that there are certain elements included strictly in the invoice. If one fails to include these elements or provides wrong information, the invoice becomes invalid. You can find several templates at Invoice Temple with all the elements to create a legally valid invoice.
In case you're creating an invoice manually without software like Invoice Temple, here's what all are the elements that you need to include in your invoice:
Brand Elements: Did you know that your invoice not only acts as a tool for sending and receiving payments but also as a tool for branding? So make sure you create an invoice that includes all the branding elements such as the company logo, brand colors, fonts, and signature.
Invoice Number: An invoice number is a number that you assign chronologically to every customer of yours to set and record the customer data and history. It helps you keep organized and distinguished between the number of clients you work with.
Date: every invoice should include two of the following dates:
The date of issue &
The date of payment due.
This helps the customers and you to know when to send and receive payments.
Seller's Information: That is your information such as contact number, email, WhatsApp, physical address, GST number if you have one, etc.
Buyer's Information: It also should include the client's details such as their name, contact details, and physical address. This would be helpful to reach out in case of any queries or emergency situation about the payment or anything else too.
Terms and Conditions: An invoice must also contain the terms and conditions for the payment such as the due date for payment, penalty, discounts if any, and modes of payment you offer to ensure 100% transparency between you and your clients.
Itemized List of Goods and/or Services: It is always best to list the goods and/or services you provide with a little description so it will be easy for the client to understand why you charge what you charge.
Personalized Message: A little bit of personalized thank-you note can go a long way in maintaining customer relationships. It is proven that customers are more likely to pay an invoice with a thank you note faster than an invoice without one.
What Is a Bill?
A bill is what a customer or client receives from the seller or a service provider. It contains the list of items purchased by the buyer. It is an invoice that you receive from a business and enters as a bill in your book of records.
You are required to pay the due amount mentioned on the bill to the seller or service provider. The bill is generated to receive instant payment from the customer like restaurant bills, grocery bills, movie ticket bills, or any bill that you get from a general store, etc.
A bill enables a business to:
Record and maintain expenses
Acts as legal proof of transaction
What's Included in a Bill?
Here are a few things that you should include in a bill:
Purchase Date: Since a bill is legal proof of payment, it should include the date of payment and purchase.
List of Goods/Services: It should also contain the list of goods or services purchased by the buyer so it will be easy for future reference both for the buyer and seller.
Pricing: Every bill should also contain the price of each good and/0or service you offer with the quantity of purchase.
Buyer's and Seller's information: Just like an invoice, a bill should also include the details of both buyer and seller such as their name or company's name, contact details, physical address, etc.
Warranty Periods: Like an invoice containing terms and conditions in it, a bill should contain the warranty/ guarantee policies that you offer mentioned clearly and in-depth.
Amount to be Paid: Just like an invoice, a bill should also contain the amount due along with the currency and multiple payment gateway options.
What Is a Receipt?
While invoices and bills are legal documents, a receipt is a commercial document issued when a payment is done completely. It is proof that payment is received for the buyer and proof that payment is made for the buyer.  It is usually sent right after the payment is done.
What's Included in a Receipt?
Here are a few things that should be included in a receipt:
Dates: A receipt should contain the date of purchase and the date of payment being made.
Receipt Number: A receipt number serves the same purpose as an invoice number.  It helps distinguish between the number of clients you work with and identify when the payment is done or not done.
Amount Paid: Along with separate columns for the amount to be paid inclusive and exclusive of taxes, the total amount paid by the customer should be mentioned in a receipt.
Seller's Information: unlike invoices and bills, a receipt doesn't require you to provide the seller's information. But, you can always provide the buyer's information in a receipt too if you feel you need it.
Return or Exchange Policy: this makes it easier for the customer to check through the return policy and then contact you instead of bombing you with queries and wasting your time before they come up with a return or exchange query.
Invoice Vs Bill: What's the Billing and Invoicing Difference
The key difference between a bill and an invoice is seen through the eyes of the sender or receiver. If a seller sends the payment details to the buyer, then it is an invoice. Whereas, when it's seen from a buyer's perspective, that is, when a buyer receives the payment details from the seller, then it is a bill to be paid.
So, if you are the vendor and you generate a document that has all the information and pricing regarding the items sold or services rendered, it will be called an invoice. But if the same document you receive as a customer from another seller, it will be called a bill to be paid. Both documents track the payment that is to be made.
Invoice Vs Receipt: What is the Difference Between Invoices and Receipts
Whereas, an invoice and receipt are two majorly different terms. An invoice is a document sent for a payment to be made, whereas a receipt is a document that is sent after the payment is made.
---
Conclusion:
An invoice, bill, and receipt are all integral for a smooth cash flow and function of a business. First, an invoice is sent to the buyer by the seller. It is then received by the buyer as a bill to be paid and once the payment is done, a receipt is issued again by the seller to the buyer.
So all three are crucial and knowing the difference between these terms helps you manage and business efficiently.
A more efficient way to manage finances is by investing in online invoicing software that helps you manage cash flow and automate invoices. Check out Invoice Temple's free Invoicing software now. Since it is an end-to-end encrypted cloud-based software, you no longer have to spend hours and hours of labor in sending, receiving, and maintaining records of invoices and bills. It's even a win-win situation as you carry over email marketing along with sending invoices through Invoice Temple's customizable templates.
So what are you waiting for? Check out Invoice Temple's app and software now!