Invoicing 101: Payment Terms You Need To Know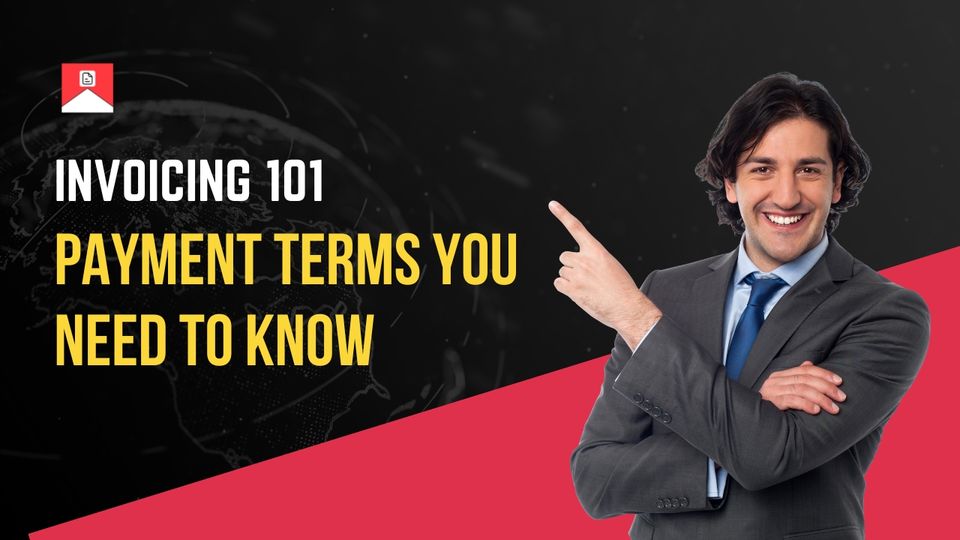 One of the most important factors to take into account while creating an invoice is including appropriate payment terms that specify the exact terms and conditions to make the payment. It includes all the details such as what to pay when to pay, how to pay, and other terms and conditions related to the charge.
What are Payment Terms?
Payment terms can be considered as a set of rules present in an invoice to set the expectations regarding the payment that needs to be done by the client. When you send an invoice to your client, the invoice should be capable of self-explanatory and let your client know every detail about the future payments they have to make.
However, it is best if you discuss the payment terms before sending an invoice to the client over a call or a meeting.
The payment terms will also include any penalty that the client has to pay in case of any delays in the payments if necessary. That is why you must set clear payment terms. When you set clear payment terms, your customers are more likely to pay on time and thus the cash flow becomes consistent in your business.
Having transparent payment terms in your invoice will not only make sure that you get paid on time but also makes it easy for your customers to understand the billing process clearly.
As a small business owner, getting paid on time will be at the top of your priority list. So it should also be your priority to set up the right payment terms to avoid late payments and ensure there's a smooth cash flow in your business.
That's why we have curated a list of the 10 most important payment terms that every business owner should know. So, keep reading!
Common Payment Terms for Invoices:
1. Advance Payments
One of the most common payment terms that we have heard of is advance payments. This method is especially suitable for service-based businesses where you charge either 50% advance amount or even the full amount as advance before offering your services to your clients. This way, you and your client will get assured that none of you will get conned in the end. And please know that charging advances is legal! So go for it!
2. Net 7, Net 15, Net 30, Net 45, Net 60, or Net 90
This is the most often used payment term by many businesses. Net 7 or 15 or 30 or net anything means that you have to complete the payment within the given number of days after receiving the invoice.
However, it can bring room for confusion. As much as it is important to include payment terms in your invoice, it is also important to focus on how to specify payment terms on an invoice. Because, what does net 7 mean? Is it net 7 business days or net 7 consecutive days including the holidays? it is best to describe what it means through a call before you send the invoice through an invoicing software and get it printed in the invoice as well.
For example, if you have stated the payment due as net 15 days, you can either mention the exact due date or clarify whether it is 15 business days or 15 consecutive days.
3. 2/10 Net 30
You already know what a Net 30 means. It means that you should make the payment within 30 days of receiving the invoice. The 2/10 represents that if the payment is done within 10 days of receiving the invoice, your client will be offered a 2% discount.
This term can change depending on the percentage of discount you are willing to give to your customer and upon how many days the discount is valid.
For example, you can also provide a 3/30 Net 90 to your clients which means, you provide a 3% discount to your client when they make a payment within 30 days of sending the invoice while the actual due date lies after 90 days of sending the invoice.
4. Payment at the Time of Service
Payment at the time of service is as easy as it sounds. As the name suggests, you have to pay the seller or the service provider once they complete their quoted service(s). One of the very familiar examples of this payment term is the one used in hotels and restaurants. Once you finish eating up your meal, you are provided with an invoice to pay and you are obliged to pay it right away! The same goes for hospitals as well. Once you finish your treatment/consultation, you pay.
5. Due Upon Receipt
Due upon receipt is one of the traditional ways of payment where your client pays the amount upon receiving the payment. Usually, this payment term is used when you send your invoice through email. But please make sure that you add a click-to-pay button providing flexible payment options for invoices such as UPI, credit, and debit cards so you receive the payment as quickly as possible.
6. Deposit Required
It is just similar to paying an advance amount before receiving a product or service. This method is usually used for product-based businesses that take up custom orders for each of their clients.
7. Recurring Payment
A recurring payment method is usually used for long-term clients who need your product/service repeatedly. Usually, a recurring invoice is sent every month for the client to make the payment. However, the period can change to biweekly or bimonthly depending upon the kind of offers you provide.
Examples of such payments include a subscription to magazines every month.
The invoice amount stays the same until the end of the agreement duly signed before opting.
8. 50% Deposit Required
This is similar to advance payments as well. While you can charge any percentage of the amount as advance payment, this payment term specifies exactly that you charge 50% of the amount as a deposit before you start the work. Most construction and home improvement companies use these payment terms in their invoices.
9. Cash on Delivery (COD)
We all know this payment term, don't we? It specifically points out that Cash should be paid at the time of delivery. Also, this payment term is used widely by product-based businesses rather than service-based ones. However, due to various online payment terms available, cash on delivery has been reduced to fractions.
10. Invoice Factoring
If you use this method, you receive payments through a third party named a factoring company which will collect and send the payment to you cutting off a little amount as commission. An example of a factoring company is Razorpay, which is widely used by many in India.
Tips for Establishing Effective Payment Terms
1. Draft an Agreement/Contract with Your Client:
Be you a freelancer or a small business owner or a large-cap business, you must sign up a contract with your client to avoid fraud or scams at the end. It can also act as a legal document that comes in handy in case of a scam. Start working only if both parties agree and sign up the contract.
2. Invoice Promptly for On-Time Payments
If you expect someone to pay you on time, you have to send them the invoice on time as well. It is always best to create and send an invoice as soon as you finish the service or ship the product. Delays in sending invoices can result in late payments and thus resulting in a disruption in cash flow. Create and send an invoice as soon as you complete an order or service.
---
Conclusion:
Not receiving timely payments can be a huge turn-off for a business. That is why it is essential to put your utmost care into creating an invoice that can speak for itself. It also makes client relationships smooth and professional.

Set up your invoice process through our end-to-end encrypted, cloud software Invoice Temple. Create and send invoices in the most professional way ever! You can also automate your invoices and send timely reminders to your clients without having to spend so much time and labor with our free invoice generator. Check out our subscription plans now!