Advantages of Mobile Invoicing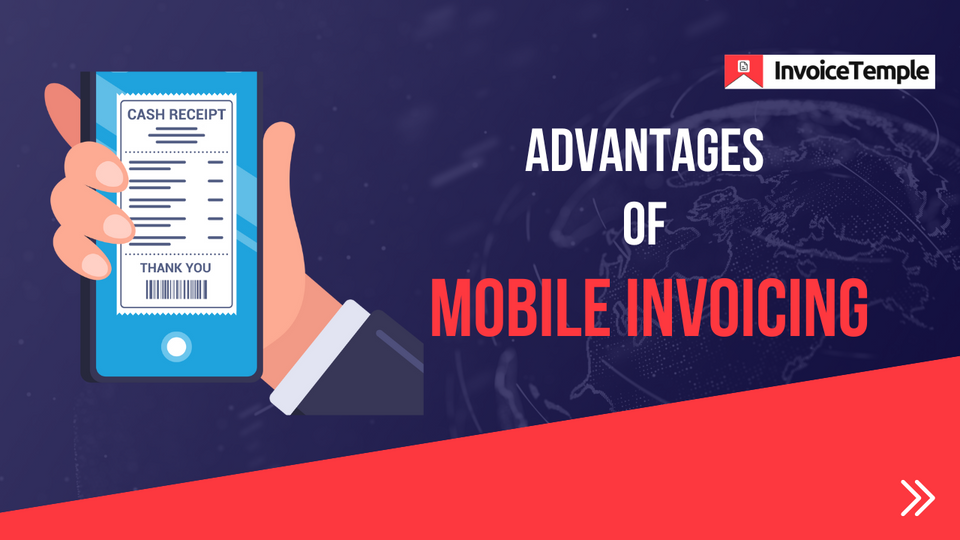 Do you feel hard to receive payments from your clients on time?
Is it easy to manage your business without receiving invoices?
Business owners are working hard to set up their business empires in the market. They are facing more challenges in their regular life.
One of the important challenges faced by the business owner is to send and receive invoices on the respected duration without delay. With the advent of mobile invoicing apps, owners feel relaxed about their invoices burden. Mobile invoicing replaces manual invoices and makes payment faster and smoother.
Let us see the advantages of mobile invoicing.

What is Mobile Invoicing?

Before some time, you need a desktop or pc to create manual invoices with the help of a word processor and excel. But the total game is changed and reduced the burden of businesses after the advent of Invoice software.

Invoice software comes with custom templates that help to create invoices within minutes and manage all your finances in one place. It is easy for business owners to know their income and expenses in a single place.

But usage of mobile ratio is increasing at a rapid speed in recent days. So, invoice software decides to create mobile apps. With the help of these apps, you can create, send and manage all your invoices on mobile. Once you create an invoice, your customer will get the payment request in an email. Then install the invoicing app and finish the process within a few minutes.

Now you can send and receive your invoices through InvoiceTemple on your mobile and tab.
Advantages of Mobile Invoicing

1. Fast Payments from Your Clients

The right time of delivery of invoices are an essential part of the business. When customers do not pay the invoice amount at the right time, it will affect the business cash flow. Soon you will expect a downfall in your company.
But mobile invoicing replaces all your risks with an instant approach to sending invoices. Through mobile invoicing, you can do the task in automation mode. Research says that customers can settle invoice payments 3x faster on mobile invoicing platforms.
2. Reduces Money Wastage

Mobile invoicing creates an impact on our environment. It replaces the paper and sending posts with single-click digital invoices.
In manual invoices, employees have to do scanning, file, and organize invoices without any errors and deliver them to the customers at the right time. But the manual process takes a long time, and companies should appoint more employees for this job.
Mobile invoicing covers all these costs, saves time, and fastens the process.

3. Portable and Pocket-Friendly Tool

Did you forget to send your invoices to your customers? What will you do when you are on business travel? Mobile invoicing is one of the best solutions to free you from invoice tension. You can send invoices to your customers anywhere through our Invoice Temple app.

All your finances, income, and expenses statement are available on your phone. If you require the information, you can easily access it through your mobile. It is not necessary to carry your pc everywhere in your travel.
4. Comfort for Customers

The company only accepts cash transactions in the traditional days of business. Once technology changes, businesses take massive steps from the working pattern of employees to business operations.
Then, every business shifted from paper invoices to manual invoices with the help of a desktop. Soon, the company faces more expenses for invoice maintenance. Now invoice software and mobile invoicing apps replace manual invoices. It reduces the burden of manpower, cost, and time.
Invoice software accepts only cash, check, and credit cards. But mobile invoicing turns payment fast and simple by introducing multiple payment options such as debit and credit cards, PayPal, cash, check, etc… These easy payment methods are a gateway for faster transactions.
5. Lump-sum Storage Space

It is essential for business owners to keep their invoices in a safe place. The owners load all the invoices on the local disk of their computer. When you store them in the local drive, your customer invoices are scattered and not in an ordered format. It takes time to arrange your invoices, and calculate your income and expenses.
But in mobile invoicing, you can store all invoices and financial information in a single place with a safety backup. The owners can access their information at any time from any of the authorized devices.
6. Sending Reminders in Automation

Are you on business travel? Do you forget to send your invoices before the due date? Do you forget to send reminders? Don't panic. Make it comfortable yourself and enjoy the business trip.
By making the process simple, mobile invoicing allows owners to set up automated reminders once the customers reach the threshold of their due date. If you have long-term customers, you should set up a recurring payment mode to free you from the tedious process of same invoice creation.
7. Real-time Signatures and Instant Receipts

To run your business in the safe zone, it is necessary to sign in every customer's invoice. But how to sign invoices in mobile apps? It is simple. Open the signature section in the invoice and draw your signature with the help of your fingers and a stylus.
This helps to save your business from fraudulent activities. You can mail the invoice receipt to your customer with a single click. You can even send a hard copy of the receipt according to customers comfort.
Mobile invoicing platforms will not charge any hidden fee during their transactions. Customers set free to pay the exact amount in the invoice without any additional fees.
9. Increases the Trust Factor of Clients

Mobile invoicing platforms are easy to handle by any customer, have high security of data with backup, multiple payment options, more storage space, a single click to the payment gateway, reminders in automation, and much more.
These benefits attract both business owners and customers in the market. This increases the level of trust and paves the way for long-term relationships between both parties.
10. Reduce the Burden of the Accounting Department

Complicated and human errors lead to delays in sending invoices and receiving payments from customers. It is double work for the accounts department manually check, and do the same process again.
Once mobile invoicing captures the market, the accounts department is free from the worry of running behind in signatures, paperwork, sending reminders, overdue, etc… In the end, mobile invoicing saves money and manpower.

---
Closing Thoughts

Do you shift from manual invoicing to mobile invoicing? Mobile invoicing helps your business to cope with this fast pace environment. Our InvoiceTemple is an online invoice software that helps to create invoices within minutes. It is trusted by more than 40,000 business owners and still counting.

Now, Invoice Temple is available in a mobile app. Through this, you can send an invoice and receive payments anywhere in the world. It helps to create estimates and manage multiple accounts in one app.
Try our InvoiceTemple mobile app and create the first ten invoices for free.

What are your views of this article? Let us know in the below section of our article.