Invoice Without a Signature - valid or Not?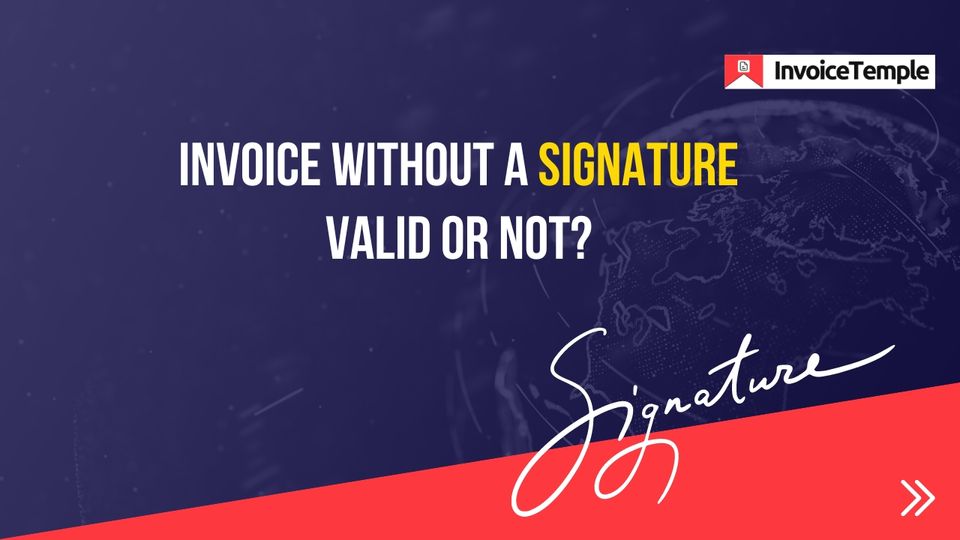 Are you using manual invoices or computer-generated invoices? Are you sending your invoices without a signature? Is it valid to send your invoices without a signature?
Business people generate invoices with the help of online invoice software and send them through WhatsApp and email. The owners will not send the invoices with the signature. On the other hand, it is computer generated invoice at the end.
It is not safe to send your invoices without a signature. There are many reasons to sign an invoice. It avoids the misconception of consumers. Proof of confidence and originality helps to reduce fraud in the market.
What is An Invoice?

An invoice is a document that registers the entry of buying and selling of goods and services. The invoice includes the price of goods and services, customer details, the due date of payment, payment terms, and mode of payment. Invoices act as a security document and maintain trustworthiness between the customer and the business owner.
Before days, people used to create invoices with the help of word processor and excel. This is suitable only for small businesses. But large businesses have huge transactions, and entering all the records manually takes more time and causes errors.
Now-a-days, online invoice software is getting more popular compared to manual invoices. Invoice software helps to create accurate invoices within minutes. It has inbuilt templates to make it look more professional.
In traditional days, invoices have sent in paper format. With the advancement of technology, Invoices are sent in the form of e-invoices (through the mail).
What Information Should Include in Invoices

Invoice Number
Customer Name and address
Name of the business and address
Invoice Date
Date of the goods and services supplied
List the purchase items
The total amount of purchased goods
Signature of the owner
Payment instructions
Terms and conditions
List of the accepted mode of payments
Signing Invoices

Invoices are proof for customers and sellers. It acts as a security document. Once they make payment, invoices announce to customers that they are the owner of this product.
What is the role of a signature in an invoice? If the signature is not present in the invoice and the customer tries to cheat that they already paid the amount. You cannot take any legal action. But if the invoices are signed, you can take any legal action against your customers.
Both buyer and seller sign the invoice for mutual understanding. It is one of the best solutions to avoid confusion in a later year.
How to Get the Invoice Signed?

Is it easy to sign an invoice? Whether the owner has to do more formalities before signing the invoice? No, signing an invoice online is simple and easy. Both parties should sign invoices in the form of a digital signature.
Digital signature contains unique codes. It helps to identify an individual or a company who makes a signature on this invoice. Digital signatures are a secure way to verify the files in a fast mode.
Use our software to see the best results. InvoiceTemple is one of the best online invoice software in the market and is trusted by more than 40,000 businesses. Invoice Temple comes with custom-made templates.  
Select the template that will allow you to add the digital signature of both parties. It saves your time and efficient way to sign invoices quickly.
Here are the few steps reveal you how to sign in your invoice with Invoice Temple software:
Open Invoice software and log in to the dashboard
Click invoices on the left side under the sales section
Create a new invoice for your customer
Once you complete the invoice, add the owner and customer signature at the end
Click on add company signature and draw your signature in the dialog box. The same procedure followed by your customer
You successfully add your digital signature
In the world of the future, every business is shifting from manual to digital invoices. Slowly manual signatures are a shift to digital signatures, and people are showing more interest in automation mode than the manual.
Multiple Benefits of Signing a Digital Invoice

Saves more time, effort, and money compared to the manual invoices
Digitally signed invoices secured with digital encryption and protection. It is easy to erase the manual invoice
Monitor your invoice status in real-time
Digital invoices are widely accepted all over the world
Is It Safe to Keep Your Invoice Without a Signature?

It is not necessary to sign the invoice. The legality of an invoice will be proven according to the circumstances. In common terms, an invoice is a document created for mutual understanding between the customer and the seller. But there are no specific requirements that the invoices need to be signed. When both parties make signatures present in the invoice, you are safe and can take any action at any time.
Things to Consider Invoices Without Signature

Before issuing invoices without a signature, you have to consider the following steps for legality:
Terms of Payment

An important part of the invoice is the payment of the customer. Both buyer and seller should have a mutual understanding of payment terms and conditions. This includes when the buyer has to pay the amount, any due amount, and other details related to payment.
Record the Talks and Messages

To run your business in the safe zone, ensure to document all the talks and messages about invoices in a separate folder for your evidence. You can include phone calls, messages, emails, etc… This helps to prove that your customer agreed to your invoice terms.
Include Payment Link

Attach the payment link when you send an invoice to your customers through email. It is easy for the customers to make the payment without deviating to another page. Give special instructions when you make payment through cheque or bank transfer.
Seek Advice From Legal People

If you are unsure about your invoice validity, approach legal advisors and check your invoice terms and conditions. They will give a solution on how to proceed with this invoice and payments legally.
Disadvantages of Invoices Without Signature

People can mislead the invoices
The owners can't recognize their invoices. It may land in trouble
No proof or no evidence of purchasing goods and services from your company
Fraudulent people can change the number of invoices
When the customer breaches the invoices, the owner cannot approach to court
Without a signature, invoices are not valid and are considered legal issues in some countries
Without a signature, trust will reduce between both parties
It is impossible to judge whether the invoice is original or not
It is easy to replace the invoice with fake ones
---
Closing Thoughts

An invoice without a signature is not a necessary one. It is still considered and valuable document. An invoice with a signature is evidence that a transaction happened between you and your customer. As long as mutual understanding is present between both parties, the owner can issue invoices without signature.

In my point, Add both parties signatures in the invoice for a safe zone. It reduces the amount of risk and eliminates the last-minute pressure. It keeps you calm and confident in every situation.
Are you agree with my point and what you learn from this article? Let us know in the comments.