Invoice Thank You Message for Returning Clients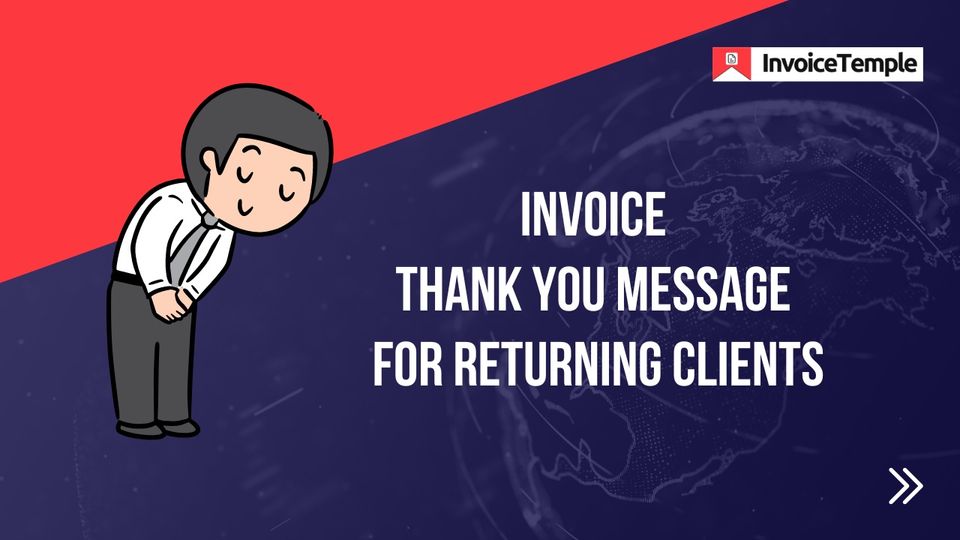 Simple gratitude towards clients increases sales of your business…
Do you know showing gratitude towards clients increases your brand image? How do showing gratitude and kindness fasten your payment? The power of being kind is high compared to other emotions. Being polite and showing love toward your customers increases your brand goodwill in the market.
Including "Thank you" in your invoice note creates a connection with your customer and builds curiosity about our brand. Do not add generic messages like "Thank you for your purchase, see you again". It is a boring message for the consumers.
Add an ingenious and creative invoice message at the end. It tempts the consumers to come back to your shop and turn, increases your sales in the future.
In this article, we will reveal the strategies for how to invoice thank you messages helps retain clients in the long term. Let us see this in detail.
Why Invoice Thank You Message is Essential?

Invoices play an indispensable role in every business. Sending invoices to your customers before the due date is crucial work for business owners. When customers do not send payment at the right time, it will affect your business cash flow.
What happens when you include thank you a message at the end of an invoice? From a business point of view, it is a common way to convey your message. On the other hand, it is different from the customers point of view. Let us see the benefits of adding a gratitude message at the end:

When you send your invoice by showing gratitude, it creates a personal connection with the customers.
when you do not add thank you at the end of the invoice, it doesn't create a good impression in customers minds.
It is one of the best ways to impress your customers. It encourages your consumers to visit your shop and make purchases again.
It helps to connect with your customers, which helps to drive your business for the long term.
When you show your gratitude at the end of the invoice, it increases the loyalty and trustworthiness of the customers.
If invoices reach your customers mailbox with a customized note, it motivates them to make payment before the due date. Soon, they avoid the procrastination formula for invoice payment.
After adding thank you note at the invoice footer, you can list the related products to encourage them to purchase more.
Ideas for Thank You Messages in the Invoice

1. Offer Discounts and Coupons After Adding a Gratitude Note

Now-a-days, business owners are aware of invoice software benefits. So, businesses are moving from manual invoices to invoice software. Invoice software comes with custom templates to create your invoices within minutes.
Inside the template, you can see the notes column. The owner should use this column as a way of expressing gratitude. Also, include discounts and coupon codes to excite your customers. This motivates their purchasing power.
This is suitable for new and existing customers. When you add a discount to the invoice footer, mention that this discount is a one-time offer. For example: Thank you for your purchase, avail 20% off on invoice payment within today. If your customer uses a debit or credit card, add 30% off on your debit cards for five days, and thank you for your purchase.
2. Your Gratitude Note Should Be Visible to Customers

Some business owners present the world and express their gratitude in their invoices for the sake of responsibility and to increase their brand image. Do you have any idea that your customers read the gratitude statement?
Then what is the purpose of including gratitude in the invoices? Ensure that the gratitude statements are visible to the customers by using different fonts and colors or using bold to grasp their minds.
Before sending the invoice through the mail, ensure that you add the gratitude note at the end of the amount column. So, they will look at the gratitude note once the customers open the invoice mail.
3. Offer Free Samples to Customers

Offering free samples in the initial stages is crucial work to cover a large target audience in the market. Everybody loves to get anything for free. So businesses can take this as an advantage to cover potential customers.
If your customer orders 100 pieces of your product, send them extra two pieces. Along with the courier, send a free sample of your new line of products to turn them into a permanent customer.
After sending the order, mention in the invoice that this is a one-time discount. Otherwise, your customer expects free samples every time. If you wish to grow your business in the short term, you can apply this formula to every customers order.
4. Get Feedback From Your Customers

How to understand your customers opinions about your product or service? Through feedback forms. It is one of the best modes to connect with your customers. At the time, of sending invoices through the mail, attach the feedback link to open the communication platform with your customer.
With the help of feedback, it is easy for you to identify the customers problem and face issues related to your product, payment issues, order issues, etc…. This feedback helps improve and bring changes to your business.
Customers like to connect with the business and would like to share what they think about the business. And, how do customers convey their gratitude? Through feedback. So, feedback not only solves the customers problem, it is a platform to share ideas and express gratitude.
As a business owner, do not consider feedback as a complaint platform, it is an open forum to connect and know more about your target audience.
5. Show Your Business Worth to Customers

How to establish yourself as a better brand compared to other competitors? By showing the original value of your products in the invoice. For example: In the customer invoice, add the competitors price and how much money they saved when the customer purchased from us.
This is one of the best ways to gain the trust of your customers. You can use this technique in your business. Ensure to add the competitors price below the invoice amount, and show your customer savings for that month.
Grab These Examples of Thank You Messages

Thank you for your visit to our (brand name). Let us know your reviews of our product.
For us, every customer is a king. Thank you for your purchase, and see you soon.
Our (brand name) is successfully running because of your loyalty. Thank you for your transaction from our (brand name)
Thank you for committing to our brand. We hope that you get the best service from us.

---
Closing Thoughts

Before sending invoices to your customers, follow these ideas and messages to retain your customers forever.
Before creating invoices, use our online invoice software InvoiceTemple. It is one of the best software trusted by 40,000 business owners.

Invoice Temple helps to create invoices within minutes. And, you can organize your finance in one place without any confusion. Create the first five invoices for free and upgrade to the premium version.

What are your views of this article? Let me know in the below section of our blog.