How to Build Rapport With Your Client Through Invoice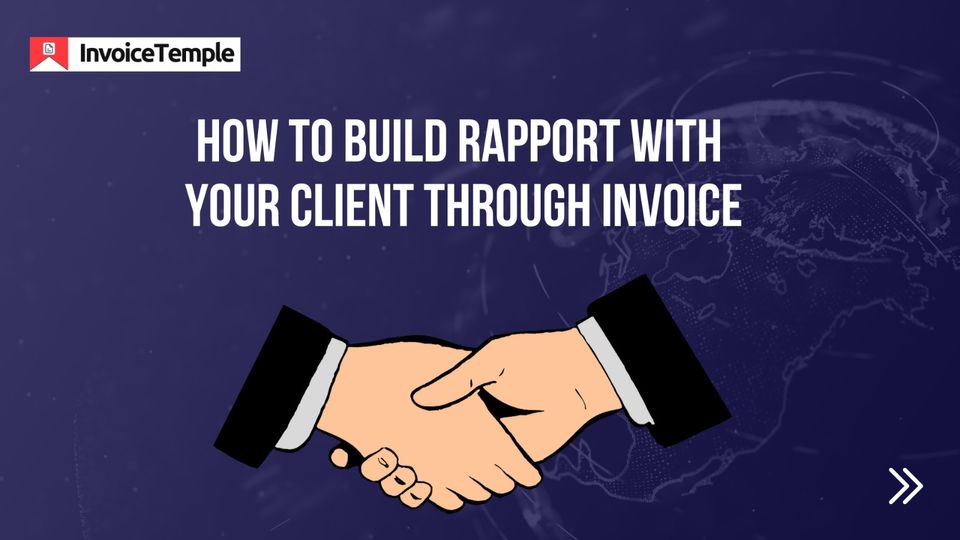 How to develop a good rapport with your clients through invoices?
Maintaining a good rapport with your customers helps to improve your reputation and attract more customers….
Are you focusing on building rapport with your clients? Are you maintaining a good relationship with your customers? Why building rapport with your clients plays a vital role in every business?
Every business is aware that the Customer is King. When you do not understand your target audience, impossible to build your empire and increase your goodwill in the market. You should maintain quality products or services, and gaining customer satisfaction are the two factors behind a successful business.
This article discusses the importance of building rapport with clients and how to make it possible. Let us see this in detail.
How Building Rapport With Customers Are Essential Through Invoices?
Customers play a prime role in the growth of the business. When you get loyal customers, build a rapport with them and turn them into life-long customers for your business.
When you lose your rapport with the customers, they will shift their purchasing power to your competitor's side. Soon, you will face heavy losses in your business. There are many ways to develop a rapport with your clients through invoices:

Attach feedback link in your invoice
Give a solution for their problem via online
Teach them about your products through blogs, youtube, and other social media platforms, and attach the links to invoice
Appoint a personal salesperson during their purchase
Active in customer support
Active on social media to solve their problems
Send a thank you message in the invoice
If there is a delay in payment, provide some time and understand their situation
Provide a fast and supportive payment gateway for customers
Sending reminders two days before the due date
Add your company logo to make your brand memorable
Provide different options for a payment gateway to make transactions simple.
Apply all these strategies and develop a rapport with customers in your business.
Benefits of Building Rapport With Clients

When you show a good rapport with clients, it will create superfast growth in your business:
1. Increase the Reputation
Businesses with great reputations can bring more surprises to the market every day. This helps to bring numerous customers to your business, and existing customers are proud to purchase products or services from your brand.
This reputation does a mouth marketing strategy to attract more target audience in your business. So, you should maintain a good rapport with your existing customers, it increases the clients count, purchases products in a repeated mode, and expands your business to the next level.
2. Bring More Loyal Customers
Gaining loyal customers is one of the challenges for the business. They are a great asset to the business. Now, more brands are entering the field and capturing customers attention in an instant spark.
When you develop a good rapport with your customers, they will trust our brand, make continuous purchases, and recommend your products to others. They provide positive reviews of your products. These reviews attract more loyal customers to your business.
3. Increase in Sales
A business owner can expect 80 to 90% of customers come to purchase your products when you build a good rapport with them. They come forward without any hesitation and ask their queries.
By solving their queries you will get ideas related to the products or service improvement. When a business owner combines quality products and loyal customers, it opens the gates of mouth marketing. A mouth marketing strategy helps to increase the customer base, and it creates gradual growth in your sales.
4. Be Unique in The Market
Some businesses focus on the current trends and try unique ways to stand in the market. They do not bother about customer service and developing rapport with them. Some businesses believe that they can increase sales through attractive advertisements and promotions.

But it does not help to withstand the market for the long term. Only customers trust the brand when they provide quality products and maintain a good relationship with them.
5. Brand Trust will Increase
Gaining trust from customers are a crucial part of every business. Understand their problems through feedback forms, and taking immediate actions to solve their problems increases their trust in your brand in the market.
How to Use Invoices in Building Rapport With Your Customers
Here are some of the points to build rapport with your customers through invoices:
1. Send Invoice on Time
The company should send invoices to their customers before the due date. Once, the sale completed with customers, immediately prepare invoices and send them within a day.
This shows the professionalism of your business in the customers mind. Do not forget to attach a thank you note with a customer invoice. Add, "Thank you for your purchase, and I hope you like our service". This helps to build rapport with the customers.
And you can suggest other products from your brand at the invoice end. Do not push your customers to buy the products. So, be gentle with your approach.
2. Terms and Payment Details Should Be Clear
After preparing invoices, attach the payment gateway link to make your customers payment simple.
As a business owner, you should have more payment options to make the transactions fast. You can add payment options such as debit card, credit card, PayPal, bank transfer, cheques, etc…
After adding a payment gateway you should mention clear terms and conditions of when the customers should pay the invoice due amount, penalties, grace period, etc… This avoids confusion and maintains a good rapport with customers.
3. Add All the Essential Information to the Invoice
The information in the invoice should be visible, and anybody can read it effortless. At once, the customer verifies the invoice, and they will get a clear knowledge about their purchases and how much they charge for.
Mention the date, list of products, rate of a single product, total units of products rate, any discount, etc…
4. Add Your Company Logo
In the last stage, send your invoices with your company logo. What will happen when you send invoices without brand colors?
Customers will not remember your brand, and it affects their relationship with them. When you add your company logo to the invoice, customers identify your brand forever. Even if they fail to make payment on time, your logo will remind them.
Add fonts and colors to make your invoice unique and make it memorable. Add your logo to invoices is one of the best strategies to promote your brand in market.
---
Closing Thoughts
From the above article, discuss the importance of building rapport with your customers and how to make it happen in your business.
Now, every business is shifting from manual invoices to invoice software. Are you in confusion about purchasing invoice software? Use our InvoiceTemple, it is one of the best invoice software online.
This software trusted with more than 40,000+ business owners in the market. It helps to create invoices within minutes and organize all your finances in a single place. So, create the first five invoices for free and upgrade to the premium version.

What are the views of this article? Let me know in the comment section of our article.