How to Send an Invoice and Get Paid Faster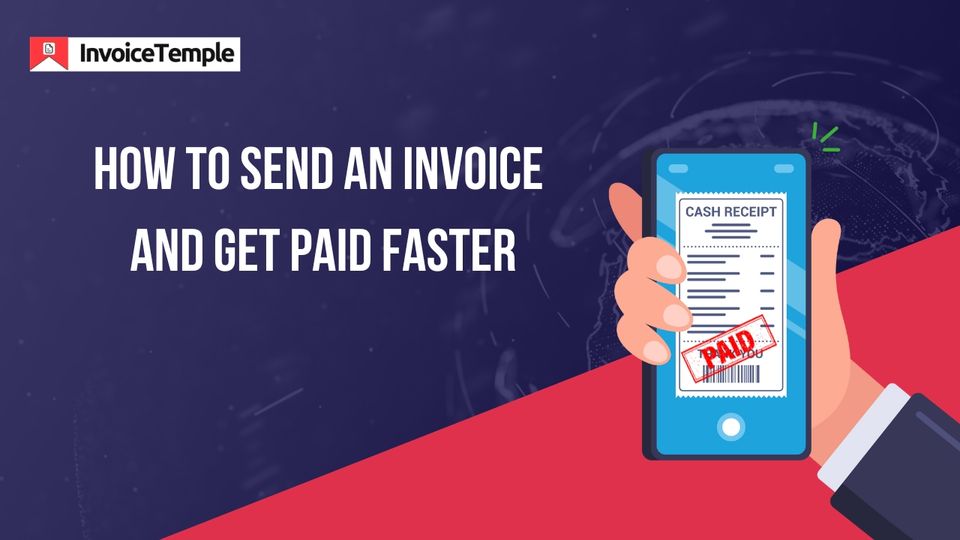 Are you sending an invoice to your customer before the due date?
Do you know the strategy behind sending invoices for faster payments?
Sending an invoice is one of the crucial parts of every business. But how to make this happen?
In this article, we discuss information that should include an invoice while sending mail, tips to send your invoices at the right time, and how to handle late-paying customers. Let us see this in detail.

Invoice: Sales Proof From Your Concern
An invoice is considered an official proof or bill sent to your customers during purchase of goods or services from your concern. This official bill reveals the payment of your purchase and its due date.

Invoices are available in two forms. Electronic invoices (e-invoice) and paper invoices. Now-a-days electronic invoices are wide popular compared to paper invoices. E-invoices sent via mail with an attached payment gateway.

How to Create a Professional Look Invoice With InvoiceTemple?
Are you struggling hard to create invoices on your own?
Are you unaware of how to create professional invoices?
Use our InvoiceTemple software to create professional-look invoices within minutes. Follow this step-by-step procedure to make it simple:
Step 1: Sign up for a free account in Invoice Temple
Step 2: Once you log in, under the dashboard select sales
Step 3: A pop-up menu appears under the sales, click the Invoices option
Step 4: Then click the New invoice button
Step 5: A New invoice will appear, enter the customer details, and add the discount if any.
Step 6: Add your signature to the safeguard future.
Step 7: Send it in via email with a payment gateway link for faster payments.
Businesses Should Follow Before Sending an Invoice:
Before preparing invoices, communicate with your customers and verify the number of products purchased from your concern.
Do not surprise your customer about pricing at the end. Inform them about the price of each product before preparing invoices.
In case the price is not satisfactory for your customer, you can add discounts and coupons to maintain a smooth relationship with your customer. This avoids last-minute confusion at the time of sending invoices.
Add the payment due date, payment gateway link, and grace days period. So, mention these essential elements in your invoices before sending them to your customer.
If you are working on long-term projects with your client, send them an estimate of your rates to get a rough idea about your product or service.
How to Script a Proper Mail for Invoices to Your Customers?
Now businesses prefer to send their professional invoices through mail. They come out from the tedious work of preparing paper invoices. Do you want to know how to send your invoices in the proper format?
Follow these simple steps mentioned below:
A short and crisp subject line contains Invoice no and mentions the invoice payment due date to grab the customer's attention.
It is not possible to type emails for every customer. So, use an email template to change the customer details alone. It fastens up the process of sending invoices to your customers.
Add all the relevant information in the invoices, and attach your invoice in the mail in a PDF format. So, the customer can download the invoice for their future safety. And do not attach your invoice in the edit format.
Then, give a follow-up through a phone call to remind them about the invoice payment and its due date. This will be helpful in case they miss the mail.
Example of An Email Template:
Subject: Requesting invoice payment (invoice no) for the purchase of our (goods or services name) on the due date
Hi (customer's name)
I hope you are doing well. We are from (your business name). On the (date), you purchased (name goods and services ) from our concern. So, please find an invoice attached to this mail. The last date of your payment is on(date). Kindly make the invoice payment on time to avoid penalties. Stay in touch with us for further queries.
Thank you,
(Your name).
Businesses Should Follow After Sending an Invoice
This process is also known as a follow-up process. Once you send an invoice to your customer, it is a prior duty of the business owner to inform them before the due date. Follow these simple tips to get paid on time:
Don't prolong the payment for the long term. It affects your cash flow.
Incase customers forget the invoice payment on the due date, give a grace period of 3 days to recover the amount from them.
Send professional mail during the follow-up process.
Call the customers personally and inform the late payments instead of mail.
If nothing goes in your path, send a legal notice to your customer.
Avoid These Invoicing Mistakes in Your Business
Businesses should avoid the invoicing mistakes mentioned below:
Incorrect customer information and invoice no
Do not send invoices before the due date
Lack of professional look at the invoices
Your terms and conditions are not clear
Do not maintain an invoice backup
Do not provide a list of payment options
Do not send a follow-up email for their reminder
Sometimes, the companies send invoices with errors
Charge fees during the time of sending invoices
Do not add polite statements to your invoices
Do not give much attention to unpaid invoices
Send your invoices through without informing the due date
Sending invoices to the wrong customer without your knowledge
Sending invoices in the wrong currency mode
Add the wrong tax rate information in the invoice
Tips for Faster Payment
Request your client for advance payment during the purchase of goods or services
Stay away from creating complicated invoices. Create a simple and professional invoice
Once the customer makes the purchase, confirm the sales report and send an instant invoice to the customer
Terms and policies of your business should be simple
Provide more payment options for easy money transfer
Offer a discount or coupon when they purchase from our business for the first time.
Inform your customer about the penalties for the late payments
Develop your patience and be calm when you handle rude customers.
Create an installment pattern when the customer cannot make the whole payment
Use electronic invoices instead of manual invoices
---
Closing Thoughts
In this article, we discuss how to send invoices in a proper format to get on-time payments from customers. I hope you get an idea and ensure implementation in your business.
Invoices play a vital role in every business. It acts as safety evidence for both buyer and seller. Now, businesses are shifting from traditional invoices to online invoices. How to choose the best invoice online software? Here is our software. Use our InvoiceTemple, it is one of the best invoice software tools in the market.
This tool is trusted more than 40,000+ business people in the market. It helps to create invoices within minutes. And, it helps to organize your finance in one place. So, our free version creates the first five invoices and upgrade to the software premium version in the later period.
What are the views of this article? Let us know in the comment section of our article.