Top 10 Features of Invoice Software That Make Your Business Simple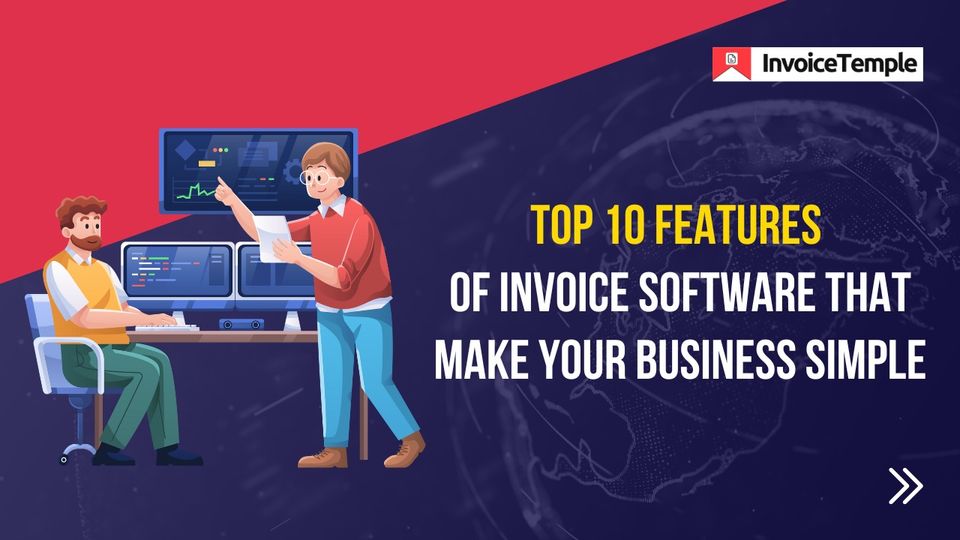 The manual invoicing period is over. Everyone is shifting to online invoice software. Over 41% of large businesses are using cloud-based invoice software. Now small businesses are ready to invest in online invoice software.
Creating an invoice from scratch using the word processor and excel is an older format. It consumes more time and a tedious job. But online invoice software like Invoicetemple helps to create invoices within minutes.
Currently, business owners are not paying more attention to invoice tools. With the enormous growth of technology, we can expect more entrepreneurs to shift to invoice software soon. So, that they can focus on other accounting and financial works.
In this article, you came to know about invoice software and its top 10 features.
What is Invoice Software?

Invoice software is an automation tool that helps to create invoices for goods and services. As per the government law tax, a business should maintain proper financial and income statements for the year. Here, invoice software helps to keep your invoices in a safe and ordered format.
Invoices with multiple currency modes help to do transactions on a global level. The beautiful part of the invoice software is you can send the e-invoices to your clients via email. Let us take a look at Invoice Temple - an online invoice software.
Compared to manual invoicing, Invoice software reduces the creation and saves printing costs. In turn, it increases business productivity and maintains a good relationship with customers and suppliers.
Benefits of Invoice Software

Automation of invoices and cut down the errors
Multiple currency mode enables invoices to send to your client in any location
Reduces paperwork
Different ways of payment options makes the transaction faster
Manage the customers data safe and easy.
Audit the invoices on time
Top-notch and customize templates
Unlimited Invoice creation
Accuracy of the data
Purchase and sales details- everything in one place

InvoiceTemple

Invoice Temple is a free Invoice Generator tool online. It is trusted by over 40,000+ small business owners. It helps to create top-notch invoices within minutes, even on a busy schedule and saves precious time for business owners. Let us see the top 10 features of the invoice temple.

Top 10 Features of Invoice Software(Invoice Temple) to Make a Simple Business Life
1. Customized and Top-notch Templates

These templates available in the invoice software liberate your time in creating invoices from scratch. Inspecting all invoices daily takes a lot of time, and it reduces the focus on other financial factors.
With the help of this template, business owners can create professional-looking invoices without errors. Special notifications and reminders help business owners to send their invoices on time and check the invoice status with an inbuilt tracker.
Do customize the invoice software templates by adding your company logo, shipping address, bank details, transport details, etc.
2. More Currency Options

Multiple currency mode is an advantageous factor of invoicing software. Business owners can send invoices to their overseas clients in their native currency mode. This feature enables business owners to issue receipts, send payments, and manage taxes in their currency mode.
3. Customer Support

Our main motto is to serve small, medium, and large businesses to create hassle-free invoices and save their precious time. After purchasing our software, you will get a lot of doubts at the initial stage.
We are here to clear your doubts and gain a good experience forever. Feel free to drop your queries in the mail, and our team will respond to your mail in a short period.
4. Invoice Reminders

In manual invoicing, business owners should send their invoices one by one at the right time to collect payment from the clients. On the other hand, they should remember the supplier's payment date. Sometimes, this will annoy business owners.

But Invoice software replaces all the difficulties faced in manual invoicing with the help of reminders and notifications. It enables business owners to make payments and send receipts to their customers on time.
5. Online Payments

To make the transaction quick and simple, Invoice Temple creates different modes of payment options for customers. Bank transfers, cheques, and PayPal help customers do transactions on time without any difficulty.

To avoid the misconception, add the payment link to your invoice while sending it in the mail. Try InvoiceTemple for your business first five invoices are free to create in our software. The software helps you to know the usability and easy working pattern of our software.
6. Prepare Quotation

Sometimes the customer asks to prepare a quotation before the purchase of their products. A quotation is a deciding factor for the customers to prove the worth of the product from their point of view.

InvoiceTemple allows you to create quotations and send them to the client. Once the client approves, you can convert the quotations to invoices in a single click. Now your invoice is ready to send to your client. It helps to save time, and customers get an idea of the rate of the product before purchasing.
7.Organize Your Purchase and Sales in One Place

In manual invoicing, all the purchase and sales data are scattered. It is hard to find out at the end of the month for the preparation of financial statements. Business Owners have to spend a week on this simple invoice arrangement. It drains your energy and loses your patience

In InvoiceTemple, you can organize your purchase and sales invoices in one place. This is useful for the business to prepare their monthly income statements, and they get a clear picture of the profits and losses of their business.
8. Safety Backup of Data

In manual invoicing, you have to maintain a backup with the help of a hard disk or external drive in the computer or PC. There is a high chance for business owners to lose the data. It leads to a high risk for the business owners to safeguard their data every time.

But invoice software like InvoiceTemple contains a safety backup feature and has high security. Only business owners can access the data with the help of their mail Id and password. You can safeguard the data forever with high security and two-way authentication.
9. Sending E-Invoices

In manual invoices, business owners create from scratch and share the excel file. It will not look more professional to deal with your customers. On the other hand, you cannot attach the payment link to your invoice.

In InvoiceTemple, Create your invoices in minutes, and you have the facility to send them via mail. You can attach the payment link to the email to avoid risk-free transactions with customers.
10. Increase the Productivity of the Business

Human errors are possible in manual invoicing. It loses the productivity of the business soon. But online invoice software increases productivity with the help of automation.
You can also set recurring invoices by purchasing a subscription-based model in InvoiceTemple. It helps to create unlimited invoices and eliminates errors and fraudulent activities.
Get the Best Invoicing Software for Your Business

When it comes to the purchase of invoicing software, business owners should buy the best one. InvoiceTemple is one of the trusted software in the market with a lower price. Make the best investment for your invoice creation and save your valuable time.