Top 5 Financial Mistakes Should Avoid in Your Business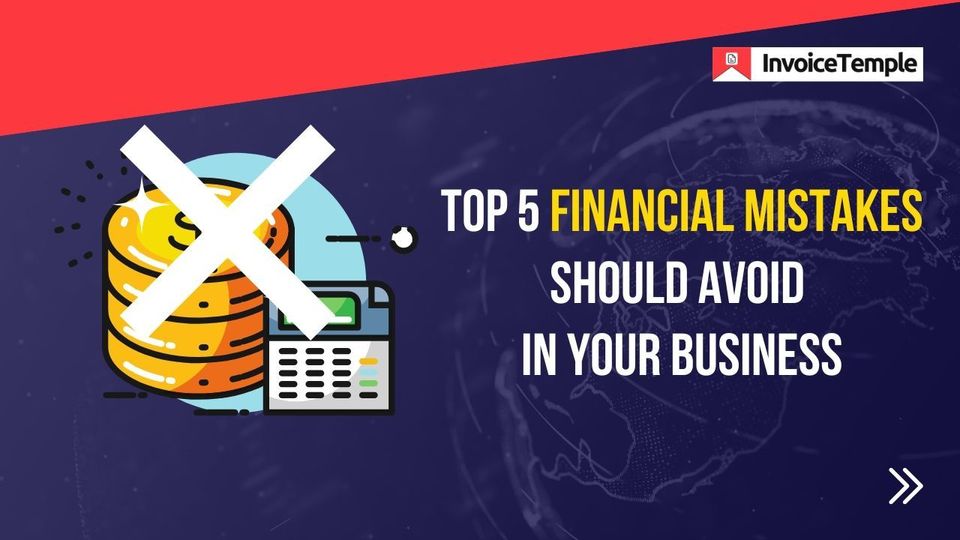 Mastering finance helps you stay away from mistakes in your business…
A survey states that "many youngsters are ready to come up with their startups than working in 9 to 5 jobs". It sounds good, and it shows the creativity of the people.
It is not easy to start your own venture without a business background. There are many processes to set up your startup and run the business as hiring new employees, managing income and expenses, marketing, advertising, promotion, fascinating your customers, and much more.
Entrepreneurship contains more risk and responsibilities in the early stages of business people. And, entrepreneurs should focus on the finance section. It is the lifeline for every business. In your initial stages, you should avoid many financial mistakes to save your business.
What are the financial mistakes a business should avoid? Let us see this in detail.

Financial Mistakes to Avoid in Your Business

1. Not Maintaining a Separate Business Bank Account

Some sole proprietorships and startup owners assume that they do not want to start a separate bank account in the name of their business. Owners think it is not a partnership or joint stock company to open a separate bank account. They thought the company runs a single owner.
The company will enjoy more benefits when businesses have separate bank accounts. Business owners get an idea of how many debit and credit transactions are happening in a month. If you like to add another person as an investor in your concern, you will get a clear idea of calculation and profit sharing.
Your bank statement shows the company's health and motivates you to grow your business. On an additional note, if anything happens to your business, it does not affect your personal finance.
2. Reduces the Unnecessary Expenses

Nowadays, businesses have many expenses to run successfully. Expenses of business are paying wages, machinery expenses, hiring interns and freelancers, advertising, promotion, and marketing expenses, paying suppliers, etc…
But some expenses are unnecessary for the business. So, spend your money with caution, and understand the purpose of the expenses. Before, investing heavy amounts in a single deal, think about your financial position twice a time. Ask these questions to yourself:
Am I taking the right decision?
Is this deal necessary for my business?
Is it possible to run my business after the deal?
When you get the right answer from your side, you can travel on this path. So, create a plan and spend every penny for your business. And reduce your expenses and save your money for future investments.
3. Not Considering Taxes

As a business owner, you should pay taxes to the government and be loyal to your business. When you eliminate and not considering your taxes, your business will face more issues from the tax department.

Eliminating taxes is like living in the snow world for a long time. When you stay in the snow world for more than hours. What will happen? Your body will freeze and end in your life danger. The same principle applies to eliminating taxes. It will show the complete picture in the long run.

You will get red-handed when the tax department audits your business and account transactions. So, business owners must maintain a proper filing of reports and statements.
4. No Plan B

Every business owner should have an additional plan when their business is not performing well in the market. Today, many startups fail and drop out of the market due to their unfit ideas.
Start your business as a side gig along with your full-time job. Even if your business plan fails, your job will give you hands in a reckless situation. Do not blindfold yourself and trust your business plan. First, understand the market and find out the gaps available in market.
Conduct surveys to understand the mentality of people. Then, find a product or service that solves their problem and check its demand in the market. So, young entrepreneurs always carry a backup plan in their hands.
5.Ineffective Money Management in Business

Managing and saving their money in smart direction helps to run their business in the long run. Poor cash flow and money management lead to insolvency and loss your goodwill. The owner should prepare a budget for the academic year and make proper plan for purchasing stocks, machinery, and other elements.
The owner should not buy excess stocks for storage purposes. It reduces the profits of the business in the long run. To avoid this situation, order bulk stocks at once from the suppliers. When you purchase bulk stocks from regular suppliers, you can expect discounts from them. So, this enhances a good relationship between owners and suppliers.
6. Not Having Enough Budget

Budget planning is one of the essential parts of every successful business. Your budget planning shows the future of your business. Once, you start your business, it is important for promotion and advertises your product or service in the market.
Promotion in the market helps to create awareness of your brand in the market. Without advertisement, you cannot people to buy your products or services. In this digital world, every business does marketing on social media platforms to target its audience.
You can attract only target audience for your business on social media platforms. For example: When you spend 200 dollars to run a Facebook ads campaign, it fetches you more traffic and brings only the audience who likes your product or service.
When you do not allocate funds for marketing in your budget, you will lose all the sales opportunities and cannot withstand in the market.
7. Not Applying for Business Insurance

Every owner needs to apply for business insurance. Insurances give hands during critical situations that arise in the business. An insured business has multiple benefits:
Safeguard from the financial risk
Cover the damages to property due to fire or accident in the company
Share your risk with the insurance company
Protects the business reputation in the worse scenario
But startups and small business owners are not paying attention to business insurance. Apply for the best-suited policy for your business and give more protection.
How to Correct Your Financial Mistakes in Business?
Step 1: Identify your mistakes and accept it
Step 2: Find out the damages and losses that happen in your business
Step 3: Stop all your expenses for some time
Step 4: Ask for help from your mentors or experts in your field
Step 5: Be open to your employees and team members
Step 6: Do not stop your business operations. Continue to work in your business with more confidence.
Step 7: Turn these mistakes into a business experience
Step 8: Start learning more and take pre-cautionary measures to save your business in the future.
---
Closing Thoughts

In this article, discuss the financial mistakes to avoid in your business. Follow these steps and grow your business to the next level.
Invoices play a vital role in every business. Our online invoice software called InvoiceTemple helps to create invoices in minutes.
It organizes all your finance in a single place. Use, our software to create the first five invoices for FREE and upgrade to the premium version.
What are the views of this article? Let us know in the below section of our article.