Future of e-Invoicing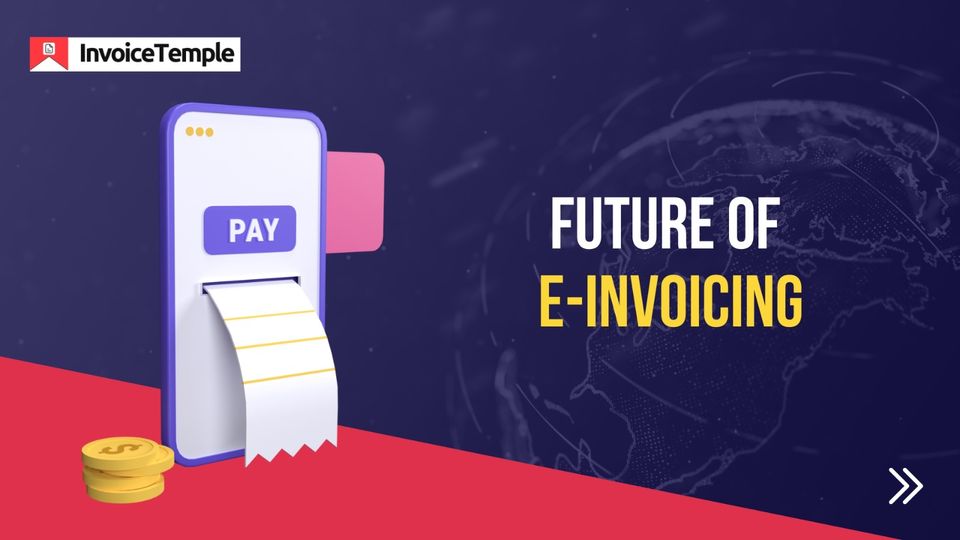 Your future business is in the hands of e-invoicing…..
Is your business shifting from digital invoices to e-invoices? E-invoices help to improve the business performance and manage the business cash flow. It eliminates the stress of duplication, and errors, reduces costs, paper wastage, and much more. Today, everyone thinks that both digital and e-invoices are the same. But that's not true.
In this article, you know about the meaning of e-invoice, the difference between e-invoice and digital invoice, why businesses are shifting to e-invoice, and its future trends. Let us see this article in detail.
What is an e-invoice?

Electronic invoicing is also known as e-invoicing. E-invoices are issued to the buyer in exchange for goods and services from the seller in an electronic format. In the traditional days, businesses used paper invoices. Sometimes, the invoices contain human errors and contain more costs. E-invoices are structured in XML formats.

Difference between an e-invoice and a digital invoice?

Future Trends of e-Invoicing
Now businesses are slowly moving from traditional invoices to e-invoices. E-invoices cut down the paper wastage and act as an eco-friendly invoices.
So, e-invoicing will reduce up to 70 to 80 % of paper wastage in future. It safeguards humans from pollution.
An automation mode of e-invoice helps to send invoices on time and manage the company cash flow.
These real-time data of e-invoice help to prepare tax and business reports in minutes.
Through e-invoicing, we can eliminate tax fraud, and everything can be managed through mobile apps.
E-invoicing has a bright future present in all countries. Many countries apply this e-invoicing and prove their valuable results to this world. And the remaining countries are in the process of implementing e-invoices in their business.
E-invoice creates an error-free invoice, rapid process time, faster approval, easy to track invoices.
Why Are Businesses Moving Towards e-invoicing?
In the future, every business will move forward to e-invoicing. It contains multiple benefits, and it is suitable for work in a fast-forward environment. Some of the benefits are below:
E-invoicing reduces manual errors and faster invoice process.
With the help of e-invoicing, smooth business cash flow is available in every business
No hiring costs and machine costs are available through automation mode.
Due to e-invoicing automation, the level of invoice accuracy is high compared to manual invoices.
E-invoicing saves the time of processing, tracking sending, and approving invoices.
E-invoicing comes with high data security, and the possibility of fraudulent chances are low.
E-invoicing helps business owners with payment reminders and phone calls for due payment inquiries.
There is no possibility of generating duplicate invoices.
Preparing invoices are a repetition of doing the same tasks, and more employees are involved in the task. But e-invoicing increases the employees productivity and makes the process simple.
Due to the tracking feature attached to e-invoicing, the owners can identify whether the business is performing well.
E-invoices act in an eco-friendly nature. It reduces all the paper wastage.
E-invoicing reduces human errors and makes the fast approval of invoices. So, you can expect faster payments from your customers.
With the help of e-invoicing, businesses can make the best planning for the growth of the concern.
E-invoicing increases efficiency and brings major growth to your business.
E-invoicing maintains a good relationship between customers and suppliers.
You can customize your e-invoices fast compared to the spreadsheet invoices
e-invoicing Improves the Future of Businesses but how?
Here is proof of how e-invoicing releases all stress about the cash flow, payment collection, and double-checking of invoices and improves the employees productivity:
Automation Mode:
E-invoice helps to generate an automated report without any human interference. To prepare a single report, the employees should work on multiple reporting levels when they prepare invoices manually.
With the help of e-invoice, there is no need for multiple reports. So, it saves the business valuable time.
Safeguard from Duplicate Invoices
E-invoice works in real-time and accesses all the data without missing any data entry. So, it is easy for the invoice management department to eliminate duplicate invoices. It reduces fraudulent activities.
No Errors
You cannot identify any errors in the data when you implement e-invoicing in your business, and you should report the same data to your customers, suppliers, and the tax audit.
Faster Payment Collection
Through e-invoicing, you can fasten up the collection process by adding a payment gateway link and adding your payment details to the invoice.
There is no human interference during the time of sending invoices to the customers. So, businesses will receive on-time customer payments and increase their cash flow.
Fast Cash Approval
Through e-invoicing, you can balance the irregular cash flow by using invoice discounting methods.
You can get fast access to capital when you have proper customer records and credit scores.
Overall Growth in Your Business
Through e-invoicing, every business can expect faster payments, eliminate fraudulent activities, and many more. Regular payment cycles and reduction in work increase overall business growth.
Overall Accuracy
Through e-invoicing, you can expect accurate data entry with 100% accuracy. This saves the employees time, and they can focus on other work.

Challenges of e-invoicing
There are variety of formats available in e-invoice. When your customer belongs to different countries, they receive e-invoice in different form. This complicates the complete e-invoicing process.
Some of your customers prefer to use paper invoices compared to e-invoices. They are not ready to change to a technological lifestyle.
Owners need time to get a complete understanding of e-invoices.
E-invoicing is not eligible for B2C business transactions.
It takes more time to enter the tax information in the e-invoice manually.
---
Closing Thoughts
I hope you get a clear idea about the difference between digital invoices and e-invoices, future trends, the benefits of e-invoices, and how businesses can improve through e-invoices. If you have any queries, please drop your message in the comment section.

Now, invoices are the deciding factor of the business cash flow. Before moving to e-invoicing, are you moving your business from manual invoices to digital invoices? Are you facing confusion in choosing the best invoice software for your business? Try our InvoiceTemple. It is one of the best online invoice software tools available in the market. We gain positive results from customers about our software

It is trusted with more than 40,000+ business owners in the world. It helps to create invoices within minutes. It helps to organize all your finance, income, and expenses statements in one place. So, create the first five invoices for free and upgrade to the premium version in the later period.

What are the views of this article? Let us know your valuable comments in the below section of our blog.