Whether the Invoice is Necessary for Freelance Work?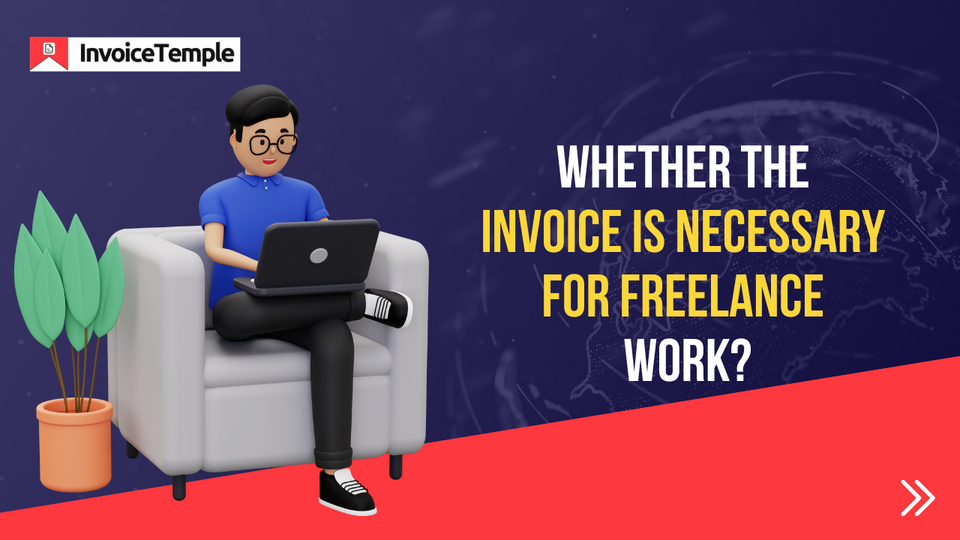 In simple words, invoices are necessary for freelance work. Because, Freelance comes under the category of work-from-home business.
Are you ready to get prompt payment for your freelance business?
Whether invoices are hard to create?
How to create a professional invoice?
We know that your mind covered with more questions. We will clear all your doubts through this article.
In this article, we share how to create a professional invoice, information that should include when you send your invoice, and much more.
Let us see this article in detail.
Why Are Invoices Necessary for Freelance Work?
It is an essential part of every freelancer to send invoices on a weekly, monthly, or project basis.
When you drop the message "Hi Pallavi, I have completed ten articles. The total amount of articles is Rs.3000. Please transfer the payment in the next week". This may sound an unprofessional tone and creates more confusion. Your client might have lost the message. So, invoices play a vital role in proper payment.
Proper and maintained invoices show a professional look at the business. It fulfills the clients expectation.
Invoices cover the complete information and come with list of payment options such as bank transfer, credit cards, and debit cards for faster payments.
Invoices help to track your income and expenses, and it helps to organize all your finances in one place. It is for tax audits and submitting your income statements.
Make invoices a part of your business. So, create and send invoices at the right time without any delay.
What Kind of Information Should Include in Invoices?
The following sections should present in the freelancer invoice:
Heading
Always give the title "Invoice" in bold capital format. It grabs the clients attention at a particular moment. Do not use different titles.
Business Name & Business Logo
Add your business name or personal name, and the logo should be present in the top section of the invoice. So, that the clients get an idea of who sends the invoice.
Freelancer Contact Details
After adding your business name and logo, add your mobile no, and email address. It is comfortable for the clients to contact you at the right time in case they have any queries.
Client Name & Contact Details
After adding your information, add the client name, permanent address, shipping address, contact number, email, and telephone number.
Date of the Invoice
Every invoice should contain the invoice date. Mention the date during the invoice was created for the client in exchange for freelance service. As well as mention the due date below the invoice date section to credit payment at the right time.
Invoice Number
The invoice number is considered a serial number of the invoice. It plays a vital role in arranging invoices in an ordered format to avoid confusion at the month end and saves you from sending wrong invoices to the clients.
List all Your Services with the Price
Once you cover all the above details, list down the services provided to your client with accurate rates. Example: If you are a freelance editor, the list contains the number of edited articles, word count, per-word price, and total price. The services list varies from one to another. So, mention your services clear, specific, and it should be understandable.
Tax Rate & the Total Amount
If you have a GST registration for your business, add a separate tax rate for your clients. Then finally, calculate all your rates and enter the total amount at the end of the section. Here, you should mention the advance amount they charge from the client before commencing the project.
Details of Payment
Discuss with your client the mode of payment before issuing the invoice. It is essential to mention payment details to know what payment mode the client transfers money to our account.
Add Your Signature
It is essential to add a digital signature to the invoice. It acts as proof, and evidence of the transaction that happened between you and your client.
When Should a Freelancer Send an Invoice?
The happiest day of freelancers life when you send invoices to clients. So, sending invoices at the right time saves you from late payments. what is the perfect time to send invoices?
Sending invoices on the 15th of every month is a good strategy. But this will give hands every week. This schedule falls under the 1st and 15th. Discuss with your client and follow this method.
The second method is to ask your client which date is suitable for the invoice payment. Here, you and your client come under mutual understanding. Now, you follow the same date for payment collection.
The third method applies to every business. Once you complete the project, send the invoices immediately with the due date. Sometimes, we forget to send invoices when we work with multiple clients. So follow this method and get invoice payment on time.
Invoice Tips for Freelancers
Every freelancer should research the client before accepting the project. Analyze your client on social media, check their LinkedIn status, check if there is any complaint against the clients through forums, etc… It safeguards you from many problems, and stay away from red flags before the commencement of your project.
To avoid the risks in your freelancing business, ask for a 30 to 50% advance amount based on the project size. If you are familiar with everyone, the client will pay you the advance amount without any second thought. If you are new to the field, ask for a minimum amount according to the clients interest.
Use an invoice tool to speed up invoice creation within minutes. It helps to send invoices through email with an attached payment gateway link. It improves the cash flow of your freelancing business. If you want a budget-friendly invoice tool, try our InvoiceTemple at cheaper rates.
Mention the due date, and payment options, and charge extra fees for the late payment in the invoice. If working with your client for a long-term project, send smaller invoices and get instant pay for smooth cash flow in your freelancing business.
Do not shorten the service name in your invoice. It creates confusion when the customer sees the invoice after a long time. Eg: Instead of "Blogs", mention "10 articles for (blog name).
Be gentle and show your friendly nature towards clients. Keep in touch with your clients, ask about your performance, and get clients reviews. It boosts confidence. Always contact your client when you send the email and confirm whether they received it.
Give your client a reminder call for faster invoice payments.
---
Closing Thoughts
We reach the end part of the article. I hope you get a clear idea about the invoice necessity for freelancing work and tips for the creation and faster payments. If you have any queries, drop your query in the comment section.
Now invoices play a vital role, and every business is shifting from traditional invoices to e-invoices. Are you facing a dilemma about choosing the best online invoice software tool in market?
Use our InvoiceTemple.It is one of the best software trusted more than 40,000 business owners present in the world. It helps to create invoices within minutes. It organizes all your finances, income, and expense statements in one place. So, create the first five invoices for free and upgrade to the premium version once you like our software.
What are the views of this article? We are expecting your valuable comments.