Why Invoicing through InvoiceTemple is better than Excel Templates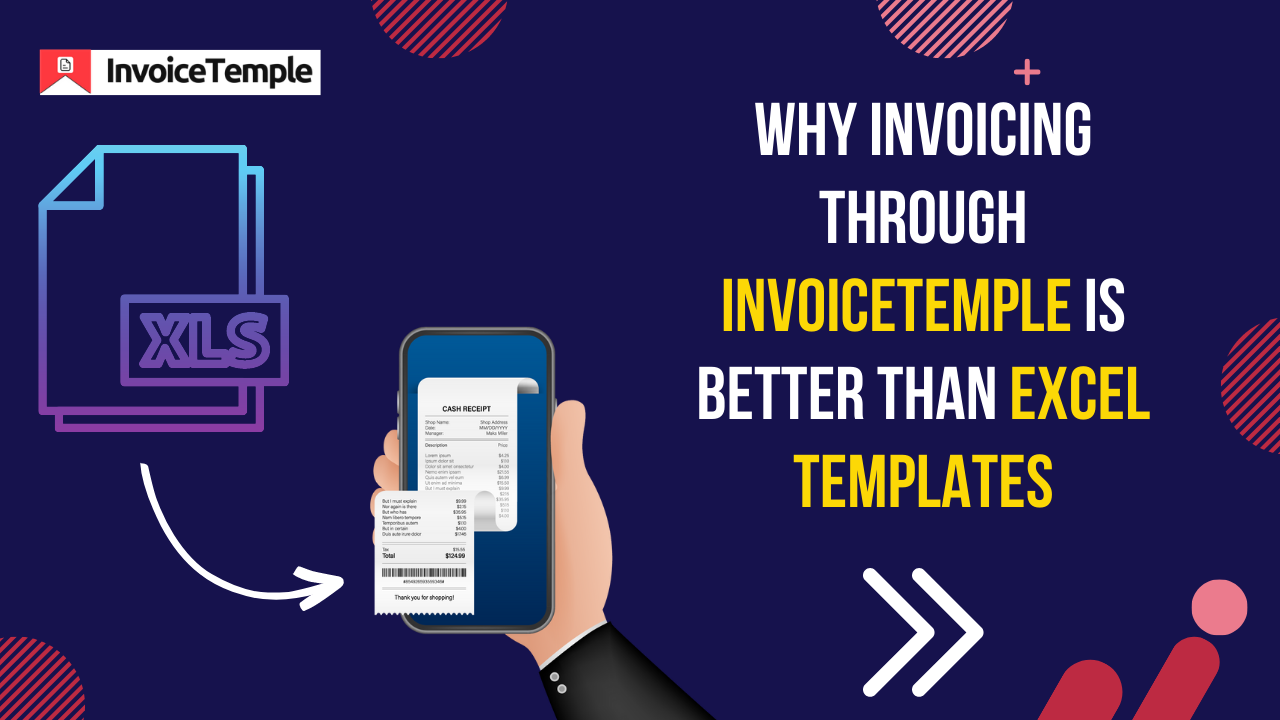 Are you using Excel templates to create invoices?
Is it frustrating to create all the processes manually?
Do you know invoice software replaces Excel templates with its immense features?
InvoiceTemple is one of the best invoicing software in the market. Over 42,000 small business owners trust our brand. They are successfully creating invoices within minutes and share them with their clients in instant mode. In this way, they save their time and focus on other work in their organization.
In this article, we discuss how our InvoiceTemple app replaces the Excel templates and share the benefits of our app.
Benefits of InvoiceTemple
InvoiceTemple comes with a user-friendly interface and easy to access
Our app has a tracking feature. It helps to know the status of your invoices and estimates
InvoiceTemple manages all your financial reports in one place. It is easy for your income tax filing
You can add your digital signature to avoid fraudulent activities in your business
Easy to understand the app interface without any guidance from other people
It comes in both desktop and mobile version
InvoiceTemple helps to convert the estimates into invoices with a single click
You can send personalized notes to your clients
InvoiceTemple allows different modes of payment to your clients
InvoiceTemple Vs Excel Templates

Reasons Why invoice temple is Better than Excel Templates
1. Tracking and different modes of payment
InvoiceTemple offers a tracking feature that will help you to know the current status of invoices and estimates. But Excel is a normal spreadsheet application. It does not contain any kind of tracking feature. Once you send it to your clients, you should manually record a file for everything in your computer folders.
InvoiceTemple offers different payment modes such as PayPal, wallet, bank transfer, and cheque. But you cannot attach payment gateway in Excel templates. So the client will transfer the money according to their convenience. Our invoice software simplifies and smoothens the invoice creation work with our different features.
2. Automatic Schedule

InvoiceTemple comes with an automatic schedule feature. This lessens the tension of sending last-minute reminders to your clients. Once you set the date, it shows the alert message in your app during that date.
In this way, you can easily remind your customers on time and send an official email to them. But using Excel templates you should maintain a reminder note in a separate folder manually. Sometimes this frustrates you and loses focus on other works.
3. Professional Templates
InvoiceTemple comes with professional and easy-to-use templates. This saves you valuable time in the preparation of columns and rows. While using these templates, it shows the professionalism of your business and your clients are happy to tie with your brand.
But Excel templates come with a basic design without any advanced features. You cannot add your signature and company logo. This creates more fraud and forgery in the future. But our invoice software helps you to stay away from such bad situations. Here you can attach the digital signature and company logo in the templates.
4. Financial Report in One Place
InvoiceTemple has a special feature of managing and storing all your finances in one place. It is an advantage for every business owner to know their monthly income and expenses. On the other hand, financial reports help file tax purposes. This financial report shows the profit and loss of your business for that particular month.
But only invoice preparation is possible when you use Excel templates. You can manually handle all your income and expenses from the storage invoices in your computer folder. During the month end, you should calculate and prepare a report by yourself.
5. Conversion of Estimates into Invoices
InvoiceTemple offers an immense feature called the conversion of invoices into estimates. Once your client approves the estimates, it is easy to convert them into invoices with a single click. It is not necessary to create it again from scratch.
But the conversion is not possible in Excel templates. Once you create the estimates, it is considered as a separate sheet again you should create the same sheet for invoice from the scratch. It is a time-consuming process and you can expect human errors in your spreadsheet.

Closing Thoughts

Today business owners are shifting from manual invoices to the usage of invoice software. And I hope you will get the answer from this entire article.
It is the right time to switch from Excel templates to the InvoiceTemple app.
Download Now from the Play Store. Create the first five invoices for free, learn about our software, and later upgrade to the premium version.